art collages and drawings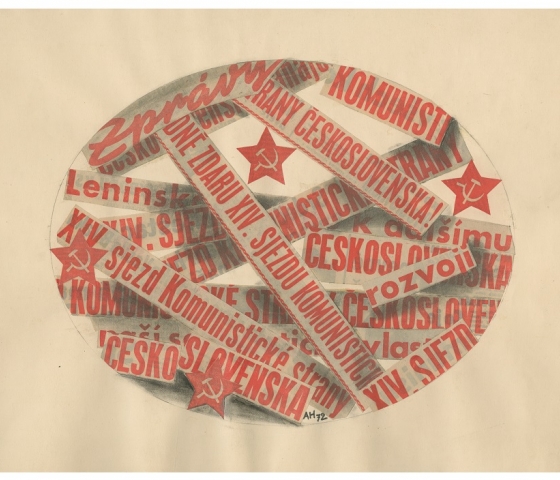 1902, Praha – 1973, Říčky v Orlických horách
painter, illustrator, graphic artist, cartoonist, typographer, writer, poet, diplomat, educator
studies: Faculty of Law, Charles University, Prague; self-taught artist
membership: Devětsil; Association of Fine Artists Mánes; Union of Czechoslovakia visual artists; PEN club
Adolf Hoffmeister is one of the most versatile figures in domestic culture of the 20th century. At the same time, his life destinies respond to the history of Czechoslovakia from its inception to the beginning of normalization. He experienced (and reflected) the emergence of a young state and an attempt at democracy, the rise of Nazism, internment camps in France, the experience of emigration, an attempt to stop the onset of new totalitarianism, the communist dictatorship, the liberation of the 1960s and normalization.
All this is reflected in his work, both literary and artistic. Especially through his collages, which were created as an immediate reaction to current events, one can perfectly perceive the time and its deeper subtext, Hoffmeister and thanks to everything he experienced, he was able to express his position very accurately, ironically and uncompromisingly. This can be seen, for example, in collages from the 1960s and the Prague Spring. Hoffmeister worked hard to rehabilitate the avant-garde, liberalize culture and revive progressive art trends – all the more desperate and then skeptical are his work that accompanied development in Czechoslovakia.
The exhibition in the Boskovice Synagogue will present a selection of collages and caricatures from his entire creative period. It presents the story of a Central European intellectual with strong moral or ethical principles, which were often confronted with various totalitarian powers and when it was necessary to choose between two evils.
The exhibition will be prepared from the collection of the Adolf Hoffmeister family and from loans from public and private institutions.
The synagogue, Muzeum regionu Boskovicka, 7 July–31 October 2022